---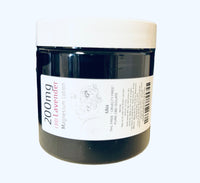 Magnesium Lavender Lotion
THIS LOTION HAS A Metallic smell due to the magnesium! But it works made with local lavender hydrosol water. 
this lotion is not a everyday use 
It was designed for restless leg syndrome. But can also be used for sore muscles. 

* swapped out a few ingredients
Still just as amazing and effective. Just added some mango butter and got rid of the goat milk ( vegan friendly ) 
Similar to cocoa butter, mango butter is an effective moisturizer and may help soften your skin. The abundance of Vitamin E and Vitamin C in mangos may help protect your skin.